WEST COAST TOUR
After the success of the East Coast Tour in 2013, we began to get requests to tour the states of the West Coast and ended up traveling to 19 cities in 23 days. This was a huge undertaking - financially and logistically - and wouldn't have been possible without the backing of Sue's and Donna's credit cards and Sue's family, Laurie's expertise at organizing, and the generosity of the people in each place providing solidarity housing for Laurie and Terry and the Wicklines.
Throughout the tour, we met many dedicated activists, experienced gracious hospitality, were assisted by organizers and organizations, and got to see the natural beauty of the entire West Coast from San Diego to Seattle! Dr. Bill Honigman, renowned California activist, Co-Chair, with Ohio's Kurt Bateman, of PDA's Healthcare Issue team, then ER doc (now "retired"), and DUH ally, traveled with us from San Diego to Los Angeles and left us after LA with the suggestion that we should organize a rally in Washington, DC to commemorate Medicare's 50th anniversary. He would become a member of the Healthcare Justice March planning team!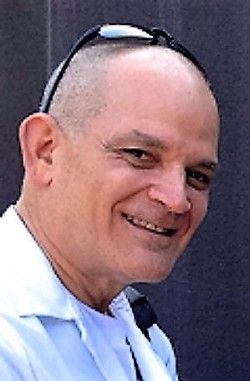 CALIFORNIA
4/11/14 - Laurie and Terry joined other protesters outside the San Diego Convention Center where Hillary Clinton was to speak and DUH got some Fox News coverage!

4/11/14 - Dawn Dersham and her companion "Tink" both got DUH t-shirts for helping in San Diego.

4/13/14 - The audience at the Orange Coast Unitarian Universalist Church was over 100 strong, thanks to great organizing by Eva Noriega. This shot was taken after the reception they held for us.

4/14/14 - Our van unloading at UC Irvine's Nelson Auditorium

4/15/14 - Irma Strantz, chair of the San Gabriel Valley Healthcare for All and the League of Women Voters, organized two screenings for us. She's a tireless advocate for single-payer, shown here at a rally for Medicare for All.

4/15/14 - Pilgrim Place in Claremont.

4/16/14 - Irma also arranged for a screening at a church in Arcadia where a delicious meal was provided and amazing roses were growing in a courtyard outside (hand provided for scale!)

4/17/14 - Before leaving Claremont, our troupe stopped for yogurt treats and a selfie!

4/17/14 - Unfortunately, the screening at the USC Health Sciences Building was attended by fewer people than were in our group, but we did it anyway. We were happy to finally meet the amazing Cindy De La Cruz who was involved in arranging all the university screenings. While no photos were taken in L.A., we found this one of Cindy - her energy and sparkle shine through!

4/19/14 - After a day off in Santa Barbara, we proceeded to San Luis Obispo. Pre-med student, social justice activist, and hostess extraordinaire Wendy Tyree, arranged for the screening at the Unitarian Universalist Fellowship. She even cooked us breakfast there before sending our little convoy on!

4/20/14 - The irrepressible Don Bechler of Single Payer Now hosted us at the Eric Quezada Center for Culture and Politics. It was almost standing room only and the discussion was lively, reflecting the political awareness of the diverse audience.

4/21/14 - The next day, Don had arranged for a rally at City Hall - unfortunately, most of the spectators were couples, straight and gay, going in and coming out married! Understandably, they didn't stay long! But Sue achieved her goal of standing in front of the same building where Harvey Milk stood and became the gay rights legend he is today.

4/21/14 - Doctors Jeff Gee and Clauta Chaufan, both PNHP members, arranged for a screening at the UCSF Laurel Heights Campus Auditorium in this building. It had the biggest screen we'd shown the movie on to that point and Jeff and Claudia were great facilitors of the discussion.

4/22/14 - Oakland's New Parkway Theater was up next and Oakland was a significant stop. We discovered the Taste of Denmark bakery where Donna bought a tin bucket full of cookies - this bucket became the Magic Pail into which audience members deposited over $180 in donations. We had gas money for the rest of California! The theater was a fun, eccentric place, furnished with vintage couches and chairs, as well as the usual theater seats. Gerri Field and Marion Shostrum did a great job organizing!

4/23/14 - On our way to Chico, Donna and I encountered this fine fellow crowing as if it was dawn in the parking lot of a Wendy's. Perhaps he was protesting their chicken sandwich!

4/23/14 - Norma Wilson, Tom Reed, and Doris Nelson filled the house at the Pageant Theater in Chico - what great advocates!Tom and his wife Kathy also hosted a potluck for us at their community center before the screening. Great food and enthusiastic discussion of area politics and healthcare!

4/24/14 - The next morning, Norma at the interestingly named Sin of Cortez restaurant. I don't know the story of its name, but the blackberry pancakes were "sinful!"

4/24/14 - We made our way from Chico to Santa Rosa. As this is written (10/18/2017), Santa Rosa has been devastated by a horrible wildfire. It's our fervent hope that the breathtakingly beautiful Shomrei Torah synagogue is unharmed and we hope the generous people of its congregation are also doing OK.

We had a plentiful audience for our screening there and Stan Gold was an enlightening facilitator.

4/25/14 - UC Davis was our last stop in California. There we were again reunited with Keyon Mitchell of the California Health Professional Student Alliance (CaHPSA). We'd first met Keyon in Irvine, then UCLA, and now in the Sacramento area. He is a natural leader and of course he got a DUH t-shirt to wear when he goes to jail for justice! Or just to wash his car...
OREGON & WASHINGTON
4/26/14 - The drive from California to Oregon was beautiful! Though we had no public event scheduled in Ashland, Mark and Kathleen Kellenbeck invited us to join them and some other great Oregon activists for dinner at their home - what a wonderful evening of good food and conversation!

4/27/14 - Rick Staggenborg, doctor, radio host, and founder of Soldiers for Peace International, joined us on the panel at the Unitarian Universalist church in Grants Pass. Though the crowd was small, they were eager to learn more about single-payer.

4/28/14 - Eugene was our next stop. There we met Lou Sinneger and Charlie Swanson who joined us for an Asian lunch before the screening at the lovely Bijou Theatre. It was a charming art theatre, known for its showing of socially conscious and independent films. Again we had a full house and the audience bought out our t-shirt supply!

4/30/14 - After a day off, our next screening was in Portland, where David Delk arranged for the event to happen at the First Unitarian Church. They had a very innovative screen! During the discussion after the film, a homeless man bravely stood up and said he was shocked that all the people in the audience didn't have the access to healthcare that he had through Medicaid. He was so generous in his encouragement that we keep spreading the word until EVERYONE had what he had that we felt as if he'd made a huge donation!

5/1/14 - Terry and Laurie got to visit their home in Salem and Terry's Mom and sister came to the screening at the Grand Theater. It was good to meet them! John Gear and Anita Owen did a great job promoting the event and we had a great audience.

The Wickline home territory was next up. Fox Island was a charming place and the screening happened at Bob and Lynda's church after a lovely meal. Bob opened the evening with some songs and called this group up to join him. His daughter Marcie (in the red shirt) and Lynda both sang, too!

The West Coast Tour ended in Seattle at the Cherry Hill campus of the Swedish Medical Center. PNHP of Western Washington and Healthcare for All Washington had great tabling materials, the crowd was large and enthusiastic, and we had a surprise guest - Lindsay Caron, the young woman in the movie who traveled to Vancouver on her bicycle to interview Canadians about their healthcare system, was there and lent her unique perspective to the discussion.
Donna flew home to S. Carolina, Sue to Illinois, the Wicklines returned to Fox Island, and Laurie and Terry went on to a screening in Bellingham that had come in after our plane reservations were made. We hoped that some of us would meet again to do a tour of the Southwest and South, but our friends with Healthcare for All Texas were the only ones expressing interest and we knew raising the money for it would be unlikely. So it was with uncertainty that we said good-bye, but also with much gratitude for the adventures we'd shared and the people we'd had the pleasure to meet, not to mention the opportunities to tell the truth about single-payer to all of our audiences.