HEALTHCARE JUSTICE MARCH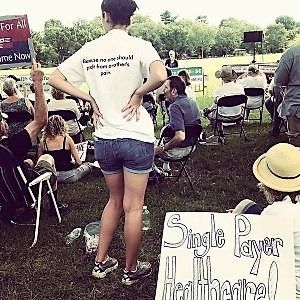 It was during our 2014 West Coast tour that Dr. Bill Honigman suggested that we organize a rally on the National Mall in 2015 in order to celebrate the anniversary of Medicare being signed into law. On August 1, 2015, the Healthcare Justice March became a reality.
The HJM, as we called it, was the result of over a year of envisioning, planning, applying, calling, emailing, inviting, posting, and tweeting. There were times of deep despair, frustrating stagnation, surprising celebration, just as deep satisfaction, and exciting exhilaration. To those who thought it was a stupid idea not worth supporting, thankfully, we didn't listen. No, we didn't raise as much money as we needed. And the numbers weren't what we hoped. But the people who were there were great and the day will always be one of DUH's proudest. None of it would've been possible without the people who donated, endorsed, and volunteered; the 271 who showed up out of 1,200 who registered and most of all, Donna Ellington, who was Sue's right arm every step of the way.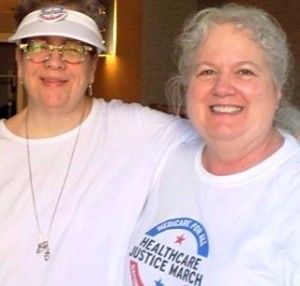 The Speakers
David Ball, speaker, emcee, volunteer coordinator, and HJM Hero

Sue Saltmarsh, Founder of DUH

Dr. Jill Stein, Green Party presidential candidate

Dr. Margaret Flowers and Kevin Zeese, healthcare and social justice activists extraordinaire!

Donna Ellington, DUH's Deputy Director and social media GENIUS!

Pastor Neal Jones, then of the Unitarian Universalist Church of Columbia, SC

Dr. Bill Honigman took a break from the ER and activist activities to be a rock star, singing Joshua Lowe's "Silence Is Consent."

Leslie Boyd, healthcare activist and grieving mother. Her son Mike died needlessly due to lack of access to healthcare.

Dr. Lou Klein gave the crowd a hilarious rendition of doctor's exchange with an insurance company.

Dr. Robert Zarr, then president of Physicians for a National Health Program.

Community Advocate Thomas Dixon, currently running for the office of Mayor of N. Charleston, SC. He fired up the crowd and got us cheering!

Chief of Staff Michaeleen Crowell came from Bernie Sanders' office to speak on his behalf and read a statement he'd issued.
The trio - Donna, Camille Smith, & Ryan Splitt

Medicare 4 All

Behind the Scenes

Anne Feeney, Cathy Courtney, and Margaret Flowers open the show!

The Raging Grannies, Leslie Boyd, and Sue

Texas activist Cathy Courtney and Marcia Everett from S. Carolina

Laurie Simons and Terry Sterrenberg

No Liberty without Healthcare

Some of the HJM crowd
We learned valuable lessons from the experience of planning, organizing and seeing the HJM come to life, some of them being very disheartening, some of them amazingly encouraging. We will not be so naive or idealistic about future events, nor will we ever discount the efforts invested by many and the dedication of the crowd who showed up. We will appreciate and nurture the connections we made along the way and not waste time trying to jump through hoops or overcome barriers borne of ego and petty politics. We will never fail to be grateful for the six organizations and 92 individuals who responded to our appeals for support by donating a total of $10,000.
Whether or not others consider the HJM to be a failure, we are proud of the fact that no matter the obstacles we faced; no matter the betrayals and needless drama; no matter the constant struggle with raising money and losing more and more production value until we even had to give up having a stage, WE DID NOT GIVE UP! We never will either, until our work is done and everyone living in the U.S. has the healthcare they need!